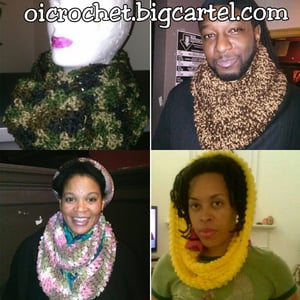 $

25.00
*PLEASE NOTE EACH SCARF IS CUSTOM MADE TO ORDER.
My take on the Infinity/Mobius scarf. These scarves are shaped like a circle and many ways these can be worn goes "on and on", hence naming them the 360. Much more functional than a traditional scarf, these stay put once wrapped. Unisex. These HANDMADE, custom scarves are the perfect accent to your winter/fall wardrobe. The 360 style typically measures length 34-36 in, width 6.5-8 in. Available in the following SOLID/SINGLE COLORS: BLACK, WHITE, RED, HEATHER GREY, NAVY, ROYAL BLUE, TURQUOISE, HOT PINK, LIGHT PINK, PURPLE, CHOCOLATE BROWN, TAN, ARMY GREEN, MONEY GREEN, ORANGE, GOLDENROD, and MULTICOLORS: GREEN CAMOUFLAGE AND PINK CAMOUFLAGE.
*SPECIAL COLOR REQUESTS PLEASE EMAIL BEFORE ORDERING. OICROCHET@YAHOO.COM
*720 SCARVES ARE THE SAME LENGTH, JUST WIDER TO COVER THE HEAD FULLY. THEY ARE 13-14 INCHES WIDE.
Please SPECIFY COLOR CHOICE IN NOTES TO SELLER SECTION AT CHECKOUT.
Most orders will ship within 10-14 business days. Larger orders will require more time.
EMAIL OICROCHET@YAHOO.COM for questions or more info.
*PLEASE NOTE:Yarn COLOR selection will vary based on local yarn distributor availability. If you desire specialty yarn, yarns will be ordered and added to order total. Some colors are not available in cotton. For cotton yarn color swatches please refer to http://www.sugarncream.com/product.php
For acrylic yarn color swatches: http://www.redheart.com/yarn/super-saver-economy